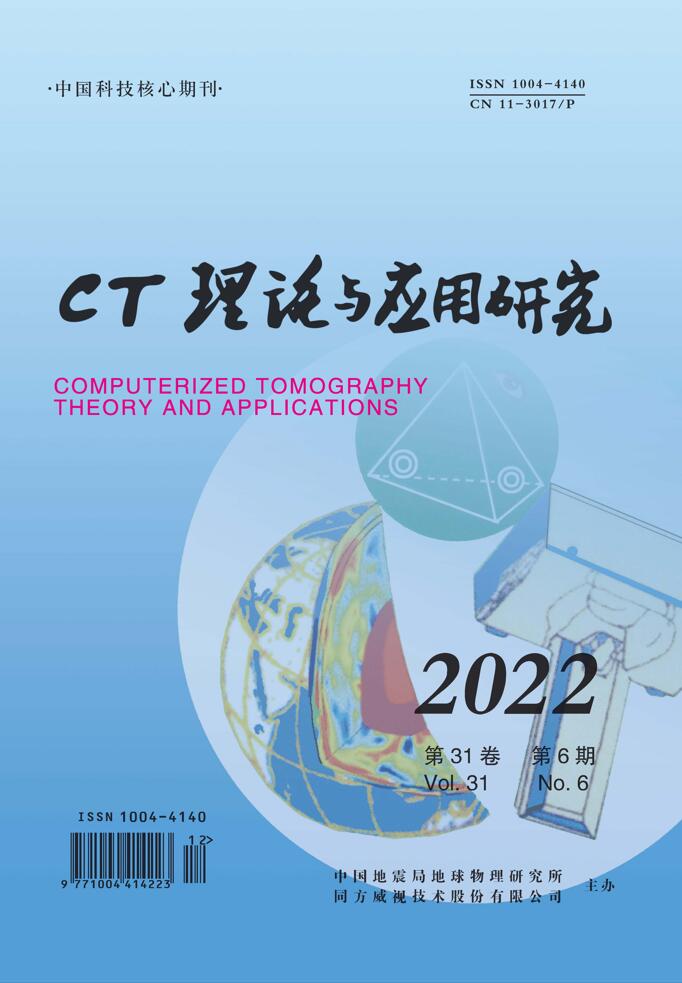 Founded in 1992, bimonthly
sponsor:
Institute of Geophysics, China Earthquake Administration
Nuctech Company Limited
Articles Online First have been peer-reviewed and accepted, which are not yet assigned to volumes /issues, but are citable by Digital Object Identifier (DOI).
Abstract:
Under the condition that the number of projection angles is constant, reducing the radiation dose under each angle is an effective way to realize low-dose CT. However, the reconstructed images obtained through this method can be very noisy. At present, the deep learning image denoising method represented by convolutional neural networks (CNN) has become a classical method for low-dose CT image denoising. Inspired by the good performance of transformer in computer vision tasks, this paper proposes a CNN transformer coupling network (CTC) to further improve the performance of CT image denoising. CTC network makes comprehensive use of local information association ability of CNN and global information capture ability of transformer, constructs eight core network blocks composed of CNN components and an improved transformer component, which are interconnected based on residual connection mechanism and information reuse mechanism. Compared with the existing four denoising networks, CTC network demonstrate better denoising ability and can realize high-precision low-dose CT image reconstruction.
Abstract:
Reducing the dose of computed tomography (CT) is essential for reducing the radiation risk in clinical applications. With the rapid development and wide application of deep learning, it has brought new directions for the development of low-dose CT imaging algorithms. Unlike most existing prior-driven algorithms that benefit from manually designed prior functions or supervised learning schemes, in this paper, we use an energy-based deep model to learn the prior knowledge of normal-dose CT, and then in the iterative reconstruction phase, we integrate data consistency as a conditional item into the iterative generation model of low-dose CT, and realize the low-dose CT reconstruction through the prior experience of iterative updating training of Langevin dynamics. The experimental results show that the proposed method hold excellent noise reduction and detail retention capabilities.
Abstract:
Low-dose computed tomography (CT) is a relatively safe method for disease screening. But low-dose CT images often contain severe noise and artifacts, which seriously affect the subsequent diagnosis. To solve this problem, this paper proposes a subspace projection and edge enhancement network (SPEENet). SPEENet hold an architecture of autoencoder, including two main modules: dual stream encoder and decoder. The dual stream encoder can be divided into two parts: noise image coding stream and edge information coding stream. The noise image coding stream removes the noise and artifacts in low-dose CT images by using the image features extracted from the low-dose CT images. The edge information coding stream mainly focuses on the edge information of low-dose CT images and fully utilize the edge information to preserve the structures. In order to make full use of the encoder features, this paper introduces the noise basis projection module to establish a basis based on the features of encoder and decoder, and uses this basis to project the features extracted by the encoder into the corresponding subspace to obtain better feature representation. In this paper, experiments are conducted on the public database to verify the effectiveness. The experimental results show that SPEENet can achieve better denoising performance than other low-dose CT denoising networks.
Abstract:
Total variation (TV) minimum algorithm is an image reconstruction algorithm based on compressed sensing theory, which can realize the reconstruction of images with high accuracy from sparse projection or noisy projection data and has been widely used in computed tomography (CT), magnetic resonance imaging (MRI) and electronic paramagnetic resonance imaging (EPRI). Energy spectrum CT, T1 or T2 weighted MRI and EPRI both belong to multi-channel imaging. The channel-by-channel TV algorithm can achieve high-precision image reconstruction, but it ignores the similarity among the images of each channel while Nuclear TV algorithm is a TV algorithm that considers the image similarity among channels, and can realize high-precision image reconstruction. For multi-channel image reconstruction, taking CT reconstruction as an example, this paper proposes a nuclear TV multi-channel image reconstruction algorithm based on the framework of Chambolle-pock algorithm. Through the reconstruction experiments of simulated phantom and real CT image phantom, the accuracy of the algorithm is verified, the convergence of the algorithm is analyzed, the influence of algorithm parameters on the convergence rate is explored, and the sparse reconstruction ability and noisy projection reconstruction ability of the algorithm are evaluated. The experimental results show that the proposed algorithm can achieve higher reconstruction accuracy than the channel-by-channel TV algorithm. Nuclear TV algorithm is a high-precision multi-channel image reconstruction algorithm, which can be applied to multi-channel reconstruction of various imaging modes.
Abstract:
Spectral computed tomography (CT) based on photon counting detector can simultaneously collect projection data of multiple spectral channels and obtain absorption characteristics of material within corresponding energy ranges, so it can be effectively applied to material identification and material decomposition. Principal component analysis is an excellent multivariate analysis technique, which can be applied to process multi-energy spectral CT data. In this paper, principal component analysis was performed on spectral CT data in projection domain and image domain respectively, and the analysis results were compared systematically. Meanwhile, in order to reduce the influence of noise and improve the color characterization performance of spectral CT images, the method of combining double domain filtering with pixel value square was proposed to denoise the noisy principal component images, and then the selected principal component images were mapped to RGB color channels. The experimental results demonstrate that the principal component analysis can obtain clear CT images and identify the different components of the substance, whether in the projection domain or the image domain. However, compared with the principal component analysis method in the image domain, principal component analysis in the projection domain can retain more details of the substance and acquire clearer color CT images.